What is Pitch and Putt?
Pitch & Putt is a sport like a short holes' (9 holes) golf.  You can go the round in less time than golf, so that not only adults but children and elderly adults can enjoy it easily.
Pitch and Putt is defined by FIPPA as follows:
Distances: (a) Length of hole: 90 meters maximum
(b) Length of 18 hole course: 1,200 meters maximum
Clubs: three clubs maximum, one of which must be a putter
Pitch & Putt may be unfamiliar competition in Japan at present, but it is popular all over the world and expected to develop more and more.
About Us
JPPA is a non-profitable organization which is launched to popularize Pitch & Putt in Japan. JPPA and FIPPA (International Pitch&Putt Federation) will work together with golf group of each country for a development of Pitch & Putt.
About JPPA
JPPA (Japan Pitch&Putt Association)
Constitution : November 1st, 2016
Address : Ginza Daiichi Bld. 2F, 8-14-12, Ginza, Chuo-ku, Tokyo
Phone : +81 (0)3 6260 6946
Board Member:
President : Yasuyuki Kuzuhara
Vice President : Misa Kuzuhara
Adviser : Toshihiko Hakuta
Director : Tsunemi Okino
District Chief : Tomoyuki Nakagoshi
General Secretary : Anna Fukumoto
Tournament Information
To Be Determined
Schedule
To Be Determined
Past Games
Opening Tournament JPPA 2019 in Japan
Opening Tournament JPPA 2019 in Japan was held on 15th - 17th March at OTAKE SHORT COURSE, FUKUOKA, JAPAN.
This was the First World Competition of Pitch & Putt in ASIA.
The details and results are here.
Pitch & Putt Pre-Competition Report - Ibaraki Games-
The first game of Pitch & Putt in Japan was held on February 8th, at "Jun Mini Golf" (589yards, par 27) in Ibaraki prefecture. 2 professionals and 26 amateur golfers were joined the game in severe frosty weather.
Mr. Junichi Matsuda, 81 years old, was the oldest participants in the game. He told us "I have been waiting the game like this. Besides, there is a possibility that I will be able to play at the world tournament!"
To our surprise, he got a hole in one in this memorable game, and got 4th place in doubles match.
Some of the participants were beginners of the games. However, their scores came close to the veterans' score.
We think that this is one of big attractions of Pitch & Putt. Anyone can join a game regardless of their age, gender differences and abilities of golf.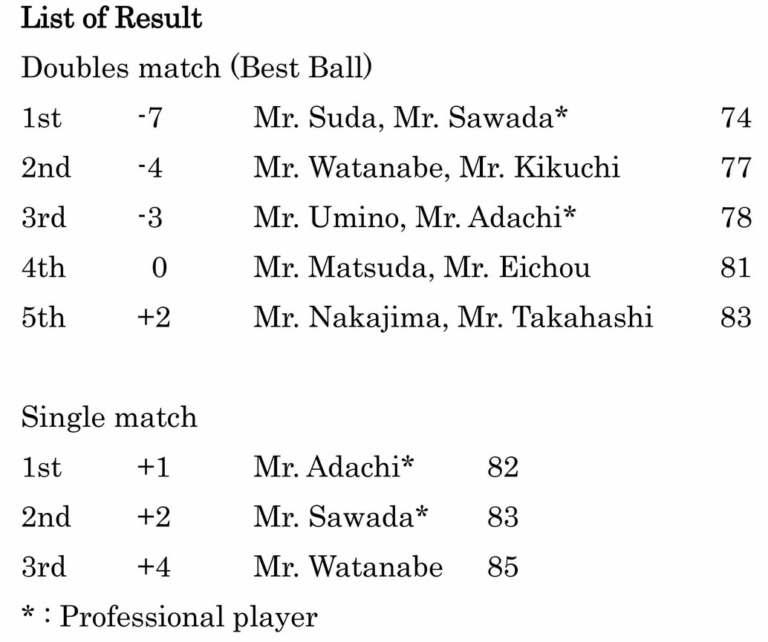 Pitch & Putt Pre-Competition Report – Kanagawa Games-
On 23rd February, the second game of Pitch & Putt was held at "Midorino Golf Club" (9 holes 553yard Par27).
4 Professional golf players, 34 Amateurs (including 4 women), 38 participants in total participated in this short game.
The participants said "Pitch & Putt is more exciting than golf. While playing, there were cheers and laughs everywhere and the atmosphere was different from golf."
For the individual match, 3 participants tied with the score -1. Champion was decided by the match of cards and Mr.Nakano who participates in the Monthly Midorino golf club tournament, became the champion. Non-professional player defeated the professionals!
For the Doubles match, host team became the champion with the score -7.
JPPA prepared prizes in various rankings other than the winning team so that beginners can enjoy this competition. Since the event date was on the 23rd, participant who won the 23rd place got a gorgeous wedge set!